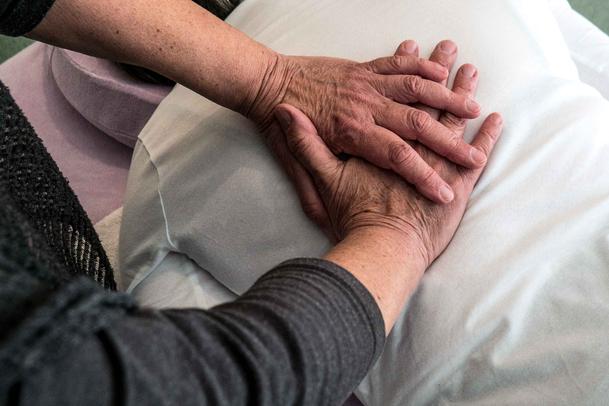 TUI NA comes from the Chinese words for 'Push' and 'Grasp'.
It is an ancient form of Chinese massage and manipulation that will rock 'n roll your pain away. It is an intense, deep and powerful massage done over cotton clothes, working on the acupuncture points to stimulate the flow of the body's energy channels.
Like acupuncture it can release the body's natural endorphins, inducing pain relief and the 'feel good' factor. It is very effective in the treatment of:
Neck Pain
Shoulder Pain
Back Pain
Sciatica
Frozen Shoulder
Tennis and Golfer's Elbow
Hip Problems
Sports Injuries
Migraines
Stress and it's associated problems
General health and well-being
Tui Na (pronounced tway na) is the name used for a wide variety of massage techniques traditionally used in China and now spreading throughout the world. Tui Na is a professional branch of Chinese medicine which uses hand manipulations (massage) for therapeutic reasons.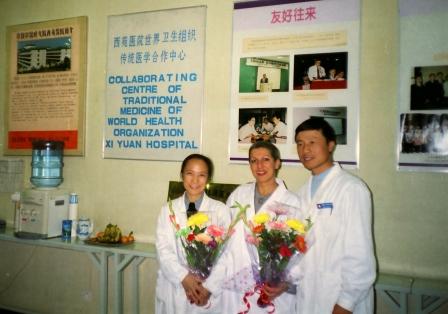 Nadia at the Xi Yuan Hospital in Beijing with Dr Zheng (L) and Professor Cai (r), head of the Tui Na and Qi Gong department.
---
Recent reviews from Janey Lee-Grace

Click on the image to read Janey Lee-Grace's account of her Tui Na treatment with Nadia.
---
Tui Na Defined
Tui Na therapy utilises manual techniques to treat various energetic imbalances which may result in disease. This is achieved by:
Removing obstructions to the flow of energy (Qi) throughout the body
Promoting an increase in Qi and blood circulation
Re-alignment of joints
Healing of soft tissue injuries
Adjusting internal organs
Regulation of nerves
Mobilisation of joints.
The history of Tui Na extends back several thousand years. References to Tui Na techniques are mentioned in the oldest surviving written records on Chinese medicine.
Today, Tui Na is one of the three major elements of Traditional Chinese Medicine, along with acupuncture and herbology. All three therapies utilise the same theories and principles of health and disease. While sharing the same basic energetic theory, each area uses different means for influencing the energy of a person toward health and away from disease. All three therapies attempt to achieve the same results; however, they each use different techniques in the process.
To understand Tui Na it is important to realise that it is quite different from the Western forms of massage. Most Western massage focuses on relaxation, particularly of the muscles. Tui Na may be used for relaxation, but it may also be used to treat a wide variety of medical conditions. Thus, Tui Na is sometimes translated as Chinese Medical Massage.
---
Differences From Other Massage
One factor that distinguishes Tui Na from other types of massage techniques is the energetic quality. Tui Na incorporates an energetic focus with the manipulation of physical structures, such as muscles. This can be accomplished in many ways. For example, the rolling technique involves rolling the back of the hand back and forth over the area to be treated. Rolling does not require pressure, instead the focus is on the smooth, even, repetitive flow of the technique. These qualities establish a rhythm which produces a constant vibration. The vibration, or Qi (energy), then penetrates to the level where the Qi is blocked and promotes movement. Pressure is not required because the Qi of the techniques can penetrate and achieve the desired therapeutic result.
Whether for adults or children Tui Na presents several useful advantages. It may be used by people interested in maintaining good health either at home or through professional treatments. Tui Na can be used to treat conditions when they are very minor and simple, thus preventing the development of a more serious condition. Also, it may be used in conjunction with other types of therapy, either Chinese or Western, as one aspect of an overall treatment strategy.